SOC Sunday: This season
February 26, 2012
Article
My husband and younger son were off of school this week for a mid-winter break, ski week, or some other reason. I don't really know why they need a whole week off in February when they just had Christmas break. Oh well, we enjoyed a nice week together. We went to the beach, exploring outdoor science exhibits in San Francisco, just spending time together. Our older son was off on Monday for President's Day and we included him in other stuff after we picked him up from school. I'm not going to spend a lot of time talking about that but instead I'm participating in Fadra's Stream of Consciousness Sunday this week. As you may remember, Fadra has included optional writing prompts for us each week.
Today's (Optional) Writing Prompt: Define the season of your life at this very moment.
~~~~~~~~~~~~
I was thinking about something very similar to this topic earlier this week. On Tuesday, my husband had to go in for meetings even though they were on vacation. I took advantage that our son was still sleeping and I watched Rachael Ray's 1000th episode of her morning talk show that I had on the DVR. I told my husband that I was feeling conflicted – proud of Rachael Ray after seeing her so many years on TV to achieve that level of success (I admit I felt a little foolish of feeling proud of someone on TV who I have no connection to) and at the same time feeling sad for myself.
I was sad because Rachael Ray has a passion that she has followed, she does such a great job at it and she looked so happy! I feel like I don't have that…
I'm almost 35 years old (there I go admitting that on the Internet again) and I have the time and opportunity to do what moves me, what lights my fire, what I'm passionate about. Yes, I have the challenge of my body not cooperating 100% 100% of the time but I don't believe that should stop me from pursuing something on my own. The problem is that I've lost sight of what that is.
I have a lot of interests, a lot of things that I can do, things I can do well but I can't pinpoint any one thing that I can consider to be a passion to propel me forward. I've come to terms with the fact that I don't have the personality or maybe the attention span to do one thing, that I have to do various things. That's why I can't ever have just one knitting project at a time. That's why the book Renaissance Soul resonated with me on a level I couldn't understand. I think it's time to re-read the book.
My current season: I am a mother, a wife, a woman interested in crafts that wears jeans and running shoes every day. I need to feel comfortable in my clothes and in my surroundings. I read books – a lot of them. I write this blog. I connect with people who are in similar situations to me. I am a woman with chronic health conditions not my chronic health conditions themselves. I do not let my health define me. I don't work outside our home (Thanks hunny! I appreciate not having that additional pressure) and I have the opportunity right now to shape the rest of this season and to work on a plan as to where I go from here so that next season I don't find myself in this same conundrum.
~~~~~~~~~~~~
This was my 5 minute-ish brain dump. Link up at all.things.fadra and check out more posts.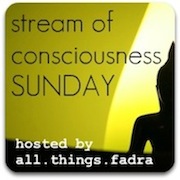 Categories: Reflecting, SOC Sunday
10 comments